The Beinlichs' 2002 Holiday Letter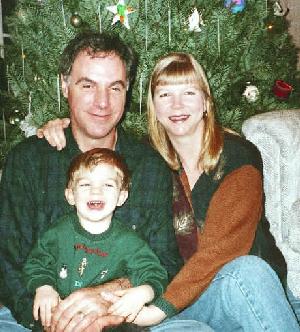 Welcome to the on-line version of our holiday letter. You'll find more pictures and text than in the printed version. And you can click on any of the small pictures to see the full-size version. In most cases, the small image links to another page with several related images, so it's a good idea to check them out. Links in the text point to other sites you might find interesting. Use your browser's "Back" button to return to the letter. Enjoy!
When you're finished, we hope you'll take a moment to sign our guest book and let us know what you think. Or drop us an e-mail to let us know what you've been up to! We'd really like to know that you visited our site. (And Brian needs a way to justify the time he spends creating the web version of the letter!)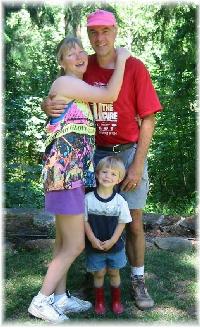 WOW! That's about the only way to describe this year. In marked contrast to last year, which we described as "relatively uneventful," this year has been one of great change accompanied by plenty of activity. Between our new house and farm, new employment situations for Brian, and a budding new career for both of us, we've hardly had time to catch our breath. Mason's been busy, too. So grab a beverage and hang on… we'll fill you in on all the details!
Christmas 2001 photos


Sean Stockwell, Mason, and Christopher and Kaitlin Thurheimer


Turner, Abby, and Mason


Kaitlin and Chris


Kaitlin with her mother Debbie
We'll start the on-line version of our letter with a brief look back at last Christmas. To the right are a few photos of Mason, his friends, and some of Sharon's family.

When 2002 began, Brian was still working at STEP Technology, which had recently been acquired by IIS. With his hours diminishing due to the sluggish economy, Brian began spending his time in other ways, one of which was helping out once a week at Pumpkin Ridge Gardens, the organic subscription farm nearby. We've been growing chili peppers with the owners, James and Polly, for about five years and have become great friends during that time. In addition, Sharon was completing her Master Gardner certification from January through March, which was also increasing her interest in gardening and farming. Between the two events, we began to think that we'd prefer a place that provided more opportunity for farming.
That opportunity arose in early March when we became aware of a farm on five acres about 5 miles from our old house. To make a long story short, it took us nearly four months to negotiate a fair price, resolve numerous issues to our satisfaction, wait out an extended closing period requested by the sellers, and finally take possession, which we did on June 24th, ending almost three years of searching. It was quite an effort, but we're really happy we persisted.
Now let's go to the next page and see our farm!
---
Last updated: 05/21/2004.



Home

Guest Book

Contact Us