The Beinlichs' Home on the Web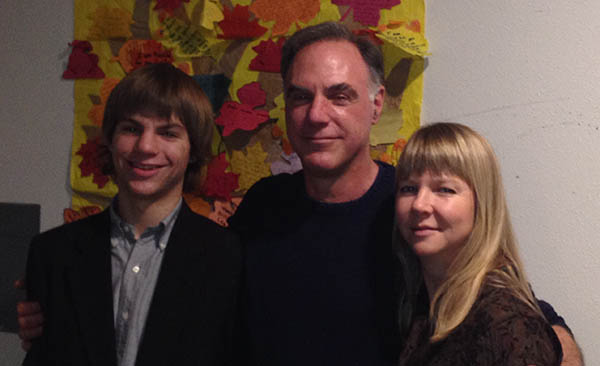 Presenting: some very special holiday screensavers!

Welcome to the family web site of Brian, Sharon, and Mason Beinlich, who live near North Plains, Oregon, USA. We invite you to grab a beverage, take some time, and have a look around. Then please drop us a note to let us know you were here. And if you're a Beinlich, and don't know who we are, we'd love to hear from you!

We must confess, we don't spend much time keeping our site up-to-date. So with that in mind, we present some highlights of our site:

In October of 2014, Sharon was diagnosed with intrahepatic cholangiocarcinoma, a rare cancer. She fought a courageous two-year-long battle against her cancer and passed away peacefully at home on October 2nd, 2016, surrounded by friends and family. We held a Celebration of her life on November 12th, and have put together a page with video, photos, and the slide show that Mason and Brian presented at the Celebration. We hope you will honor Sharon by taking the time to view the video and slide show.
After four years without sending out a holiday letter, we have finally finished our 2013 Year in Review. Read our latest letter and see why it's been so long since the last one.
Well, the 2012 holiday season came and went, and still no one stepped up to the task of writing the holiday letter. The problem is that every year that goes by causes the project to become even larger than the previous year. In her defense, Sharon did make a stab at a "Happy New Year" letter, but it didn't move past a draft.
2011 was the Year Of The New House, and the Winter of the Middle Schooler. They both kept us very busy (and distracted) and so, no holiday letter that year, either. We had good intentions though, which is more than we can say about last year.
We moved from the farm in December of 2010, in the pouring rain. There is nothing like moving a house and barn full of cr@p in the pouring rain to put the Scrooge into one's spirit. We didn't write a holiday letter that year.
Read our 2009 holiday letter and find out what we were up to that year. You can also download a PDF file of the printed letter version.
If you're a glutton for punishment, you can also read our 2008 holiday letter, 2007 holiday letter, 2006 holiday letter, 2005 holiday letter, 2004 holiday letter, 2003 holiday letter, 2002 holiday letter, 2001 holiday letter, and our 2000 holiday letter. Since the rest of our site is so lame, these letters are probably where you'll find the most information about us!
We have an archive of holiday screensavers created by ARIS. Have a look, and grab one of these great screensavers to brighten up your holiday!
In May of 2008, Mason's third grade class went to OMSI's Hancock Field Station in central Oregon for three days. Brian had the privilege of being one of the class chaperones. We've assembled some photos from the trip.
Our son Mason was born on February 25, 1999. You can read our chronicle of events up to and including his birth and his first few weeks at home. Lots of photos, as you might expect!
We have a page with very old photos of some of our friends.
In celebration of our 1st wedding anniversary in 1995, we posted some of the photos that were taken at our wedding. It was the first posting on our site! So have a look at our World-Wide-Wedding Album!

Thanks for visiting, and please come back soon!
If you have trouble viewing any portion of our site, we'd sure like to know about it. Please drop us a line.
---
Last updated: 01/19/2017.



Home

Aris holiday screensavers

Contact Us